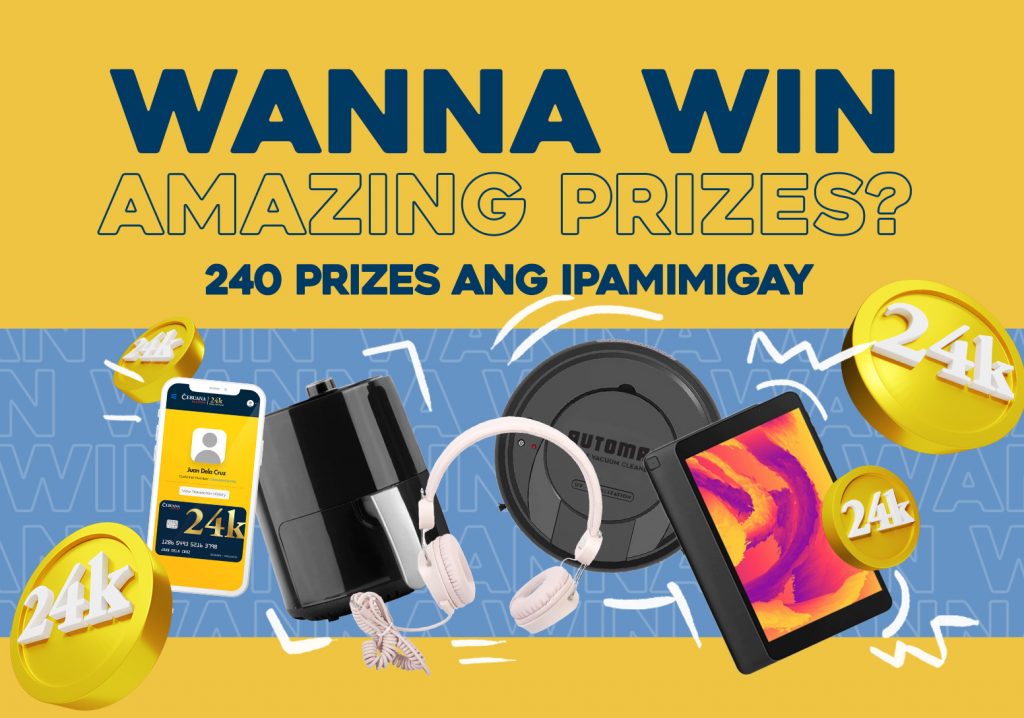 Promo Mechanics:  
This e- raffle promo is open only for all registered members of the Cebuana Lhuillier 24k Rewards Program except  employees and families of P.J. Lhuillier Inc., its affiliates or subsidiary companies, as well as its representatives or agents and advertising agencies, including their relatives up to the second degree of affinity or consanguinity or anyone else professionally connected with the Promotion are disqualified to join. 

24k members get an e-raffle entry (one applicable transaction = 1 raffle entry) to the promo for every points-earning  transaction done in-branch at any Cebuana Lhuillier branch nationwide. E-raffle will automatically appear in the 24k  member's online account within 48 hours upon completion of applicable transactions within the promo period.  Applicable points-earning transactions are the following:
● Pawning (new & renewal) 
● International Remittance (pay out and sending) 
● Domestic Remittance (pay out and sending)  
● ProtectMax buying 
● Opening of new MSA  
The promotion period is from May 24-June 20, 2023.

There will be 240 winners for this raffle, of the following prizes: 
To qualify and join the e-raffle, participants must be a member of the Cebuana Lhuillier 24k Rewards Program and  have at least 1 or more applicable transactions during the promo period and before the draw date.

The points prizes will be automatically credited to the winner's 24k membership account within 30 days upon winner announcement. 

Winners have 60 days to claim their prize upon notification.

This offer cannot be used in conjunction with any other promotional offers or discounts. 

Winners are drawn electronically based on the following details: 

24k Reward Client Number 

24k Reward Card Number 

Transaction number  

Transaction type 

Full Name 

Email Address 

Mobile Number 
Winners will be notified through their 24k online account and SMS (via registered mobile number), based on their  information in the records of the Cebuana Lhuillier 24k Rewards Program. Winners will also be announced through  the official Facebook page of the Cebuana Lhuillier 24k Rewards Program. Cebuana Lhuillier has no liability if a winner fails to receive the notification due to device security settings, or if a winner has provided incorrect or otherwise non functioning contact information in the records of Cebuana Lhuillier 24k Rewards Program.
There will be 1 draw date for all the prizes: 
The raffle draw will be held at PJL Corporate Centre, 1782 Nicanor Garcia corner Candelaria Streets, Makati City via video conference, witnessed and attended by representatives from the Department of Trade and Industry (DTI) and  P.J. Lhuillier Inc.

Refer to the Cut-off Dates above for the deadline for submission of entries. 

P.J. Lhuillier Inc. reserves the right, in concurrence with DTI, to reject a participant if he/she is unable to satisfy the  conditions set out in this promo mechanics.  

Prizes are non-transferable and cannot be exchanged for nor redeemed as cash or other items. 

Period of redemption / Claim Period: Prizes not claimed within sixty (60) days from receipt of notice will be forfeited in favor of P.J Lhuillier with prior DTI approval. 

A person can only win once. If a name is drawn more than once, he/she gets the prize of higher value. In case a name  was drawn more than once, he/she gets the prize of higher value.

Prizes are not convertible to cash. 

Cebuana Lhuillier shall pay 20% tax for prizes exceeding P10,000.

Winners must present the following for the claiming of prizes: 

A copy of their 24k Rewards Card (physical or virtual) and membership details

Valid ID with Name as registered in the Cebuana Lhuillier database 

By entering the Promotion, all participants will be deemed to have accepted and be bound by these terms and  conditions, which shall be interpreted by P.J. Lhuillier Inc., in their sole discretion with the concurrence of the DTI.  Decisions made by P.J. Lhuillier Inc., in all matters to do with the Promotion are final and no correspondence will be entered into with the concurrence of the DTI.  

All personal information provided by the 24k members in connection with this promo will be used, processed and disclosed for the purpose of running the promotion and otherwise in accordance with the Promoter's Privacy Policy. By entering this Promotion, 24k members also understand that Cebuana may disclose information to third parties involved with providing and delivering the Prize to the winners. 

P.J. Lhuillier Inc. shall not be responsible for claims of any nature whatsoever for any loss, damage, illness, bodily  injury including death of any customer arising out of participation in the Promotion or the use of the prizes.  

Acceptance of the prize will be deemed as consent by the winner to use his/her name in all related publicity  connected with this Promotion without additional charge or permission.  
DTI Fair Trade Permit No. FTEB-167316 Series of 2023